Adam "Holster" Birkholtz is a defenseman on the Samwell University Men's Hockey Team. At the beginning of the story, he is a 22 year old sophomore (Class of 2016)[1]. Holster was raised in a suburb of Buffalo; he is the oldest sibling and has three sisters[2]. He is 6'4" and about 220[3]. He is the tallest of the main cast, which is why he has to carry Lardo on his shoulders at concerts[4][5]. He wears jersey #4.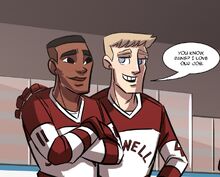 Hockey
Before Samwell, Holster played junior hockey in Waterloo[6]. He and Ransom form the best defense duo in the Eastern College Athletic Conference[7]. He is a fan of the Boston Bruins[8]. His pregame routine includes episodes of 30 Rock[9].
Holster is inventive at making up plays on the ice, but they're often silly.[10]
He wears a bathrobe on the bus when the team travels for away games.[11]
At the end of his senior year, Holster voted for Bitty as team captain along with the rest of the team. When Bitty was announced captain on a unanimous vote, Holster cheered for him and pumped both fists in the air.[12]
Holster and Ransom decided to move to Boston to work as project managers at an app consulting startup. While kissing the ice with Lardo and Ransom, the three started crying. Before moving out, the three hugged a crying Bitty goodbye.[13]
Life at Samwell
Holster is majoring in Economics[14]. He lives in the attic of the Haus with Ransom (he has the bottom bunk)[15]. He was the author of the Never-Again-Shitty-With-No-Pants-In-Holster's-Bed Act of September 2013[16].
For Hazeapalooza 2014, he and Ransom were tasked with kidnapping William Poindexter[17].
Friendship with Ransom
Holster and Ransom talk enough that they are sometimes not allowed to sit together at practice[18].
For Christmas in their sophomore year, he received a NY Giants hat and gave Ransom Holster's Hockey Movie Night Playlist (which includes "Breakfast With Scot" at #7[19]), a list of movies to watch over break, and his Netflix password[20]. (Ransom actually watched the films.)
Ransom is from Toronto, so they meet each summer at Niagara Falls[21]. During winter break their junior year, Holster went to Toronto to have lunch with Ransom and his family before the two of them roadtripped back to Samwell.[22] During the trip they sent snapchats to Bitty of the two of them singing and harmonizing.[23][24]
Holster keeps trying to throw Ransom's salmon shorts out of the window, which he does almost as much as Ransom tries to get him to wear Sperrys.[25] He and Ransom try to pick up girls at Haus parties by talking to them about hockey.[26] They like to discuss the gossipy details of the parties as they clean up.[27]
Along with Ransom, Holster looked up a ton of Jack/Kent fanfiction his freshman year[28] which they admit to March and April at EpiKegster in an effort to convince the ladies to join them in the attic.
Holster agreed with Ransom to refuse to look at popular internet memes (presumably the dress) to preserve their friendship.[29]
In their junior year, at a loss for what to get Rans for his birthday, Holster promised to get him a goal[30][31] and then he did.[32] That spring, they planned an "Easter keg hunt".[33] At the end of the school year, they argued about whether or not to drive to Myrtle Beach.[34][35]
Holster presumed Ransom would get the team captaincy for their senior year, when in fact they were made co-captains and will both wear the A.[10]
At the end of their junior year, they roadtripped home together.[36]
During their senior year, Holster learned that Ransom knew nothing of brunch at Jerry's and spent the walk chirping him about it as even Jack knew of it despite, as Holster described, living under a rock with twenty other rocks on top of it.[37]
Other Facts
Holster likes romantic comedies[38] and, in addition to 30 Rock, enjoys Cheers, Arrested Development, The Simpsons, Sister Sister, and The Golden Girls[39]. He possibly roped Jack into watching all of Game of Thrones with him.[40]
In the fall semester of his sophomore year, his mother sent a care package containing underwear[41].
Holster is said to enjoy the same kind of music as Bitty, including Beyonce and Ariana Grande[42].
Out of everyone, Holster makes the best grilled cheese.[43]
Holster can be something of a misanthrope.[44] He also greatly dislikes ivy league schools[45][46] and other campuses in general.[47]
Holster cuts his own hair.[48]
Bitty describes him as "a large boy with a large amount of emotion."[49]
Holster once played a game of Settlers of Catan with Jack[50][51] leading to board games being banned in the Haus.[52]
He attended Lardo's junior art show with his teammates, including Ransom, Bitty, Jack, Shitty, Nursey, Dex, and Chowder.[53][54]
Holster is a loud yawner.[55]
When Jack was deciding which NHL team with which to sign, Holster helped him decide along with Shitty, Ransom and Bitty. They used the chalkboard of a large lecture hall to assist Jack in weighing his options using factors such as salary, ice time, location, fan base, cap space, and team feel.[56]
His senior year, Holster invents a wild story about a forgotten jock strap in the locker room, which turns out to be his own.[57]
When Jack and Bitty were revealed to be in a relationship, like Ransom, Shitty and Lardo, Holster was completely unsurprised. While the rest argued over who owed who what on their bets, Holster just wanted to sort it out after they ate.[58]
During Tater's visit to the Haus, Holster ends up in a picture with him in the Haus kitchen, kissing a jar of jam as Tater snaps a selfie. The picture got 10,333 likes on Instagram, the second-highest liked picture taken by Tater at the Haus.[59]
When Bitty takes a check and gets back up to continue playing, Holster grins madly alongside a fist-pumping Ransom.[60]
When Jack scored an incredible goal that netted the Falconers a spot in the Stanley Cup playoffs, Holster was at the game with Bitty, Ransom and Shitty. Holster was so excited, he hugged Bitty. Holster was later able to attend a game viewing party with the Falconers, Ransom, Shitty and Lardo.[61]
Ngozi described his voice: "Holster basically has the same speech patterns as Cliff from Cheers, but with everything taken down an octave and a tiny bit slower. (So perhaps closer to Hamm from Toy Story 2)  Holster is also super loud. (He can't help it; he projects.) Holster sings very well because he also knows how to play piano! And he's one of those dicks who always tells people when they're sharp or flat. (I swear I'm going to make an extra about this.) Bass. Holster can do a spot-on Patrick Star impression and Ransom can do a decent Spongebob and this is 10% of the reason why they can't sit next to each other in formal settings[62]."
References