Adam "Holster" Birkholtz is a former member of the Samwell Men's Hockey Team, having graduated in 2016. Prior to attending Samwell, Holster played junior hockey in Waterloo, as a part of the USHL.[1][2] At Samwell, Holster played as a defenseman alongside Justin Oluransi.
Career
Holster played junior hockey in Waterloo, as a member of the USHL. Afterwards, he began to attend Samwell University, and joined their hockey team. During his time at Samwell, Holster served as a defenseman, paired with Justin "Ransom" Oluransi during his first team practice.[1]
Throughout much of the early comics, Holster comes up with hockey plays regarding Eric Bittle's unwillingness to be checked.[3] According to Ransom, he continues to come up with these ideas, although Holster regards them as stupid.[4]
At the end of his junior year, Holster was elected as team captain alongside Ransom.[5]
While studying at Samwell, Holster majored in economics[6], later using his degree to become a project manager at an app consulting startup in Boston[7], with Ransom.
Holster graduated as a member of Samwell's class of 2016.
Relationships
After being paired as defensemen during their freshman year, Ransom and Holster became fast friends. While at Samwell, the two shared The Haus' attic bedroom.[8] They're also hosts of Hockey Shit with Ransom and Holster, a series of side comics meant to educate readers on the world of hockey.
Each summer, Holster meets Ransom in Niagara Falls, the halfway point between each other's hometowns.[9][10] During their junior winter break, Holster drove to Toronto to have lunch with Ransom and the Oluransi family, then the pair returned to Samwell together.[11] At the end of their junior year, they were indecisive about whether or not to drive to Myrtle Beach together.[12][13] Ultimately, they roadtripped home together.[14]
Despite being best friends, they have their fair share of arguments, although many of their fights are over what's best for the other.[15][16] They care deeply about one another, referring to each other as brothers. After their graduation, Ransom and Holster continued to live together in Boston, after both being hired as project managers for a consulting startup.[17]
At the end of their junior year, it was undecided whether Ransom or Holster would receive captaincy, both of them wanting the other to have it more. However, at the banquet, it was decided that they would share the position after the vote came back split.[18]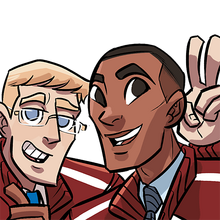 Ransom and Holster purchase each other gifts for Christmas, and each other's birthdays.[19] Holster gave Ransom his Netflix password, along with a list of movies to watch over break. In turn, Ransom gave Holster a hat. For Ransom's birthday during their senior year, Holster was unsure what to get him[20], but ultimately decided that he would get him a goal, which he then did.[21][22]
During their freshman year, Ransom and Holster were avid connoisseurs of fanfiction regarding Jack Zimmermann and Kent Parson. At EpiKegster, they used this fact to try and convince ladies attending to come with them to the attic.[23] This was mostly unsuccessful, but they did manage to get Chowder interested. In addition to enticing women with their knowledge of Kent Parson, Ransom and Holster will seek out women at Haus parties, and educate them on hockey, in an attempt to seduce them.[24] After kegsters, they gossip while cleaning up.[25]
It is heavily implied the two have drunkenly made out in the past.[26]
Holster shows an admiration for Lardo and her pong skills. He admits having been disgusted by her burping in his face, but then says he understood it as a sign of respect.[27]
Ransom admits that he thinks Nursey looks up to him.[28]
Ransom and Holster acknowledge that Chowder looks up to everyone, the two of them included.[28]
Holster's Ultimate Hockey Movie Night Playlist
The full list of films on Holster's Ultimate Hockey Movie Night Playlist has not been revealed, however, he did give a copy of the list to Ransom for Christmas.
The seventh movie on his list is Breakfast With Scot.[29]
Trivia
Holster likes romantic comedies[30] and, in addition to 30 Rock, enjoys Cheers, Arrested Development, The Simpsons, Sister Sister, and The Golden Girls[31]. He possibly roped Jack into watching all of Game of Thrones with him.[32]
Holster and Bitty have a similar music taste.
Holster can play the piano, but only various theme songs and The Last Five Years.[33]
Ngozi has stated that if she could have any one of Samwell's Hockey players as her boyfriend, it would be Holster.[33]
Holster makes the best grilled cheese of anyone in the Haus.[34]
Holster strongly dislikes Ivy League schools, as well as their students.[35][36] However, this extends to most other schools.[37]
Holster cuts his own hair, and also claims to cut Jack's hair occasionally. However, Jack denies this.[38]
Holster is known for being very loud and emotional[39], but if he isn't being loud, he dislikes it when others are.[40]
After playing a game of Settlers of Catan with Jack, Holster ended up flipping the board.[41] This led to the banning of board games in the Haus.[42]
Ngozi described Holster as having a voice similar to Cliff from Cheers, but slower and down an octave, and likely louder. Due to his piano prowess, Holster is also a skilled singer, and tells people whether they're sharp or flat.[43]
References