Christopher Franklin "Chowder" Chow (Class of 2018) is the goalie of the Samwell University Men's Hockey Team. He is a year younger than Bitty and replaced Johnson. He is Californian[1], a dedicated San Jose Sharks fan and entered college with his braces still on. He was so excited after meeting Bitty that he enrolled in Samwell on his phone in the middle of his prospective tour[2]. Bitty subsequently took Chowder under his wing and feels responsible for Chowder's welfare[3]. Chowder is weird about touching hockey pucks when he's not on the ice.[4] He wears jersey #55.[5]
Faber Memorial Rink is the first place Chowder ever skated, while his parents were in graduate school at Samwell[6].
Chowder is second generation Chinese-American[7], and is not fluent in Chinese, but is currently taking a class on it[8]. He has at least one sister.[9]
Chowder does not like to disappoint people.[10] He just wants to stop pucks and get his braces off.[11]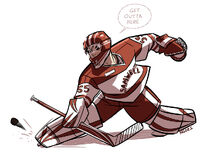 Chowder can do the splits[12]. His birthday is October 10 1996[13] and he is 5'11"[14].
Life at Samwell
Chowder fell asleep on the green sofa in the Haus the afternoon of the first game of the season, his freshman year.[15] He then made something of a habit of doing so.[16][17]
He took an intro computer programming course with Dex in their first semester.[18]
Chowder occupies a single.[19] He was kidnapped from this single by Jack and Bitty for his hazing in 2014[20]. Chowder now lives at the Haus, in Jack's old room. Chowder's freshman winter screw date was Caitlin[21] Farmer[22], a volleyball player from California who he literally ran into during a piggyback race on the quad.[23][24] They began dating over Christmas break[25]. Early in the spring semester, Bitty invited Chowder and Farmer over to the Haus for lunch.[26] They ended up eating with Jack as well.[27][28]
At the end of his first semester, Chowder was interviewed by The Daily, Samwell's official newspaper[29][30].
Chowder is a noted lightweight and gets flushed almost as soon as he starts drinking[31].
He once took over Bitty's twitter to tell the story of how he nearly met Henrik Lundqvist.[32][33][34][35][36][37][38][39][9][40][41][42][43][44][45][46][47]
Chowder achieved his first shutout game his freshman year, on February 13, 2015.[48]
During spring semester of his freshman year, Chowder attends Lardo's junior art show along with Nursey, Dex, Jack, Bitty, Ransom, Holster, and Shitty.[49] He had to wear a blazer Bitty loaned him to meet the dress code requirement.[50] Chowder probably gave the following review of the show: "Well!! I didn't really know what to expect! No one drew any portraits or anything!! I guess abstract art is all about some fancy meaning I guess? I like Lardo's sculptures (she's our manager (I thought sculptures were made of clay??)) they were super beautiful!! And then my teammate GOT INTO HARVARD" - ????[50]
At the end of his freshman year, Chowder gets Haus dibs from Jack.[51] When he returns to the Haus as a sophomore, Bitty makes him retrieve the key to the basement from beneath the green sofa, hidden there by Shitty.[52] Chowder decorates his room entirely in San Jose Sharks gear, including a bedspread, curtains, banners, posters, and a large shark pillow.[53] He explains to Whiskey what "'swawesome" means, and attempts to talk him into having the nickname "Whiskers" instead. He is also surprised when Tango, while holding some of Chowder's Sharks merchandise, asks him what his favorite team is. Chowder tells him he's never actually been asked that before.[53]
Chowder goes to Jack's first game in the NHL with the rest of the Samwell team and goes crazy over getting to see Jack play.[54]
When Bitty and Jack tell the Haus about their relationship, they leave out Chowder. As a result, when he wakes up, Chowder finds the Haus empty and panics about where his friends have all gone.[55] After Jack and Bitty tell Shitty, Lardo, Ransom and Holster, they decide to tell the frogs next and sit them on the couch. While Dex and Nursey hardly react, Chowder is left ecstatic and shocked by the news.
During Tater's visit to the Haus, he takes a picture laying on the green couch. An excited Chowder leans on the couch in the picture with Tater.[56]
At the end of Chowder's sophomore year, he voted for Bitty as team captain along with everyone else. When Bitty won on a unanimous vote, Chowder grinned broadly as he clapped for his friend.[57]
After the Falconers win the Stanley Cup and Jack and Bitty kiss on live TV, Chowder sends them a series of excited texts. He takes part in the all-night kegster at Jack's apartment and poses for a picture with a half-naked Snowy, the Falconers' goalie.[58] He attends the Cup Day kegster wearing a shirt that reads #Kup and has a picture of the Stanley Cup on it and takes a picture with Nursey that appears in the Swallow.[59]
References