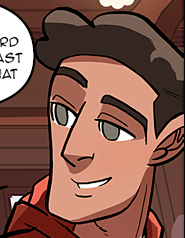 Derek[1] Malik[2] "Nursey" Nurse (Class of 2018) is a defenseman on the Samwell University Men's Hockey Team. He is a native of Uptown Manhattan[3] and a graduate of Andover, where he met Shitty[4][5]. He is biracial and part Black. [6] He is 6'2"[7] and wears jersey #28.[8] His birthday is February 14th, 1996.[9][10]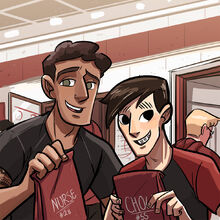 Nursey has five o'clock shadow like a 40 year old man[11]. His upper right arm has a tattoo.[8] He got his first tattoo when he was seventeen.[12]
Dex and Chowder wanted him to take an intro computer programming class with them, but Nursey said he's more of a "poetry guy."[13] Nursey and Dex don't always get along well[14], but find common ground in teasing Chowder.[15]
For his induction to the team at Hazeapalooza 2014, he was kidnapped by Shitty and Lardo[16].
Shitty and Lardo took it upon themselves to teach Nursey the finer points of beer pong.[17]
Nursey is somewhat clumsy.[18][19] On an away game trip, he hit a kid in the face with his hockey bag[20] for which Jack chirped him.[21]
Nursey got his first goal in a game on January 17, 2015, assisted by Dex.[22] In an interview afteward with a reporter from The Daily, Nursey said "Every game, we're going out there for our seniors. We all want to see them have a great season."[23]
Nursey sits beside Dex on the bus to away games.[24] On St. Patrick's Day their freshman year, he asked Dex if he was Irish.[25] He has conversations with Dex[26] and sometimes Shitty about current events and newspaper op-eds.[27][28]
Nursey has a designated spot on the locker room floor where he spits.[2]
After Jack and Bitty tell Shitty, Lardo, Ransom and Holster that they are dating, they sit the frogs on the couch to tell them next. Nursey's response is simply "oh. Cool."
Near the end of his sophomore year, Nursey gets into an argument with Dex over who will get Lardo's dibs. While Nursey admits Dex deserves to get dibs, he was banking on Dex getting the attic which ended up going to Ollie and Wicks. When Dex questions Nursey deserving Lardo's dibs, Lardo explains that Nursey proofread every art criticism she sent in that semester, practically wrote her senior thesis and gets a weird kick out of fixing bibliographies, that part of which Nursey denies. After Bitty intervenes, the argument is decided by a coin flip that ends with Dex and Nursey sharing Lardo's room. While Dex is horrified and tries to get a re-flip, Nursey is excited by the idea and jokes that Dex will be out of the room by August or September. He procceds to share the news with an ecstatic Chowder.[29]
At the end of year banquet his sophomore year, Nursey voted for Bitty as team captain. After Bitty won on a unanimous vote, Nursey cheered him on with the rest of the team.[30]
References