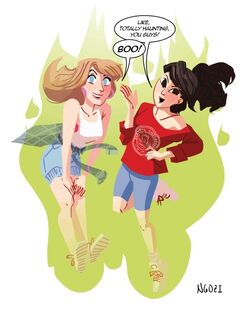 Jenny and Mandy are the Haus ghosts, whom according to Ransom most definitely do not exist[1].
Originally Jenny and Mandy were sisters in the Theta Alpha Theta Sorority, which owned the Haus for sometime up until 1993[2]. Presumably they both passed away in a tragic accident during a rush event, which caused the Haus to be abandoned and it stood empty for a decade until it was purchased by the Samwell Men's Hockey Team in 2003[2].
Jenny and Mandy are particularly fond of Ransom, and have a habit of tormenting him in various ways. Some of their typical antics include:
References
Edit
Ad blocker interference detected!
Wikia is a free-to-use site that makes money from advertising. We have a modified experience for viewers using ad blockers

Wikia is not accessible if you've made further modifications. Remove the custom ad blocker rule(s) and the page will load as expected.