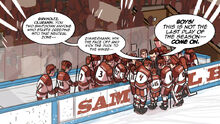 The Samwell Men's Hockey Team plays in the Eastern College Athletic Conference. Their current coach is
Coach Hall
, ably assisted by Coach Murray.
Larissa
is their current team manager. They maintain samwellhockey.tumblr.com
[1]
and encourage their players to answer the questions in their Ask-a-Wellie section. Freshmen are typically referred to as "frogs" and incoming players are referred to as "tadpoles," until the class of 2018, who complete their freshman year and are still referred to as "The Frogs" as sophomores, making the class of 2019 freshmen "The Tadpoles."
[2]
After the Tadpoles the new freshman became known as the Waffles.
[3]
The known captains include
Jack Zimmermann
(class of 2015),
[4]
[5]
Ransom
and
Holster
(class of 2016)
[6]
and
Eric Bittle
(class of 2017).
[7]
Culture, Traditions, and Antics
Hockey practice is typically very early in the mornings.[8]
The team tends to gather for breakfast after practice, at the "long table under the ugly portrait in Commons."[9] They are a formidable force when they appear at Samwell study breaks, consuming large amounts of food as quickly as possible.[10][11][12] The individual members have various pre-game rituals.[13]
The annual initiation ritual for the team is called Hazeapalooza (formerly Hazestock).[14] It begins at midnight, with kidnapping the freshmen while they're in various states of consciousness and undress.[15] A mostly unexplained series of events follows, in which participants undress to their underwear, their wrists are bound with hockey tape, and they are made to kneel in the center of the ice at Faber, surrounded by pylons made into torches, after which they are made to howl in unison.[14]
The team has a group text, the contents of which are sometimes revealed by Bitty.[16][17][18][19][20][21][22][23] There is also an e-mail distribution list, which Bitty uses for announcements of his cooking.[24]
Some Samwell Men's Hockey fans have created a twitter for Jack Zimmermann's ass.[25]
Upon returning to campus for Spring Semester 2015, the team cleared off a section of the pond to play a game of shinny.[26][27]
On Valentine's Day 2015, someone brought a sign to warm-ups which read "yo marry me Jack Zimmermann."[28] Shitty offered cash to procure it[29] and it ended up at the Haus[30] where Bitty took it up to Shitty's room for him[31] and was caught holding it by Jack.[32][33][34]
The team attended Lardo's junior art show in spring 2015, at which there was a strict dress code and an open bar.[35]
On a road trip in spring 2015, they collectively engaged in a debate about which would be worse: 1,000 cockroaches or a person living in your attic.[36]
The team finished their 2015 season with a four-game winning streak, taking them into the playoffs,[37][38][36] but they were eliminated in the final four.[39] After the playoffs, they were applauded in the dining hall by other sports teams[40] and invited to the President's house for dinner.[41]
There is a decades-long tradition wherein Seniors kiss the center ice at Faber to say goodbye, after which the team goes up to the roof.[42]
The team has an established judicial system wherein fines are charged to players for varying offenses, including using pet names, dropping baked goods, or using the away game bus bathroom to poop.[43] The offenders must face the court of seniors and answer for their charges, and then put money into a jar for their crimes.[43]
The players dance around in the locker room together, sometimes to Madonna.[43]
At the end of the year banquet, the next year's captain is chosen by team vote.[44][45][46] When two captains are chosen, they are both given A's instead of the C as in the case of Ransom and Holster[47] In Samwell Men's Hockey history only two captains have ever been chosen by a unanimous vote: Jack Zimmermann[48] and Eric Bittle.[49]
Class of 2015
Class of 2016
Class of 2017
Class of 2018
Class of 2019
Class of 2020
"Hops" Hopper
Bully
Louis Landmann
Current Players with Unknown Class
Former Players
Further Resources
Detailed diagram of the Hockey Locker Room
References