Señor Bunny is Bitty's beloved stuffed brown rabbit. When he is introduced, the team does not yet know he exists[1]. He was tragically involved in a juice-spilling incident in the spring semester of Bitty's sophomore year,[2] after which Bitty hid him under his shirt to take him to the bathroom and clean him up.[3] After Jack and Bitty begin dating, Jack presumably finds out about him as Señor Bunny can be visibly seen in Bitty's lap as they Skype and is in plain sight behind Jack when he sits on Bitty's bed.[4][5] The two later discuss where Senor Bunny is when Jack stops by unexpectedly after Bitty is upset over hiding their relationship, confirming that Jack knows. In that case, the two had left him in the window to watch the rain.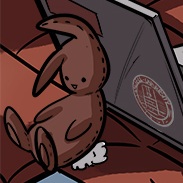 Señor Bunny Appearances
Edit
Year One
In the back of comics #1, #2, #3, and #4
Held in Bitty's lap in #8
In the back of #16, apparently doing Bitty's homework
Wearing a crimson ribbon in #17
Tucked in with a Samwell pennant in #18
Behind Bitty's laptop, in extra art from 9/2/14[6]
Tucked into Bitty's bed in #21
Hiding behind a stack of clothes in #22
Year Two
Tucked in bed in #2
Tucked in bed with a hockey puck in #3
Wearing a bandana in #4
Tucked under a book in #5
Hiding behind the pillow in #6
Tagging along with Bitty on the bus in #12
Tucked in Bitty's bed in #16
Sitting on Bitty's unmade bed in #17
Year Three
On Bitty's bed, facing the window in #1
On Bitty's bed with a flash card in his hand, and in Bitty's arms while Bitty Skypes with Jack in #3
Behind Jack as Bitty sits in his lap and flirts in #5
Hiding behind Bitty's pillow as Jack calls him back in #9
Hiding behind Bitty's pillow as he's on the phone with Jack, between Bitty's arms as Jack wakes him up and later abandoned next to his phone in #10
Sticking up from under Bitty's pillow as he wakes Jack up from a nap in #12
His ears seen in a picture Bitty looks at while reflecting in #20.
References
Edit
Ad blocker interference detected!
Wikia is a free-to-use site that makes money from advertising. We have a modified experience for viewers using ad blockers

Wikia is not accessible if you've made further modifications. Remove the custom ad blocker rule(s) and the page will load as expected.