William J.[1] "Dex" Poindexter[2] (Class of 2018)[3] is a defenseman on the Samwell University Men's Hockey Team. He is 6'2"[4] and wears jersey #24. Dex is awkward and uncomfortable with new things.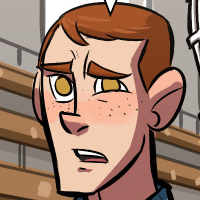 Life at Samwell
Dex is all kinds of ginger[5] and he cuts his hair once a month.[6] He spent his summers catching lobster in Maine to pay for hockey.[2]
His freshman year, Dex took an intro computer programming course with Chowder.[7] He and Nursey do not always get along well.[8]
Dex seems to have a talent for repairing things[9], particularly the oven in the Haus,[10][11][12][1] a skill he learned from one of his uncles.[13] Over the course of his sophomore year, Dex repaired a lot of things around the Haus, particularly the dryer.[14][15]
Dex was kidnapped by Ransom and Holster for Hazeapalooza 2014,[16] which he completed alongside his freshman teammates Chowder and Nursey, as well as senior Jack Zimmermann.
During the winter storm in early 2015, Dex offered to shovel out the Haus in an attempt to win dibs from Shitty.[17]
Along with the rest of the hockey team, he attended Lardo's art show in spring 2015.[18] His subsequent review was: "I went and expected it to be weird; it was." - W.P.[19]
Dex sits beside Nursey on the bus to away games.[20] He has conversations with Nursey[21] and sometimes Shitty about current events and newspaper op-eds.[22][23]
His tool box has his initials (WJP) written on it.[1]
After telling Shitty, Lardo, Ransom and Holster that they are dating, Jack and Bitty decide to tell the frogs next. Unlike the ecstatic Chowder or the quiet Nursey, Dex is somewhat startled and reacts with a "wow. Ok." Following the revelation, Dex takes advantage of the fines Jack and Bitty accumulate to save towards a new dryer for the Haus. After the two kiss following a walk on the riverside, Dex fines them and tells them that the dryer can barely do a pair of socks.[24]
As the end of his sophomore year approaches, Dex, who expected to get dibs due to all the repair work he does around the Haus, learns from Ollie that Ransom and Holster gave him and Wicks their dibs. As a result, Dex gets into an argument with Lardo and Nursey over getting Lardo's dibs instead, particularly given how living in the Haus will effect his monetary situation. The argument draws the attention of Bitty due to its loud nature. When Dex questions Nursey's right to dibs over him, Lardo explains all of the work Nursey has done for her over the year. To settle the argument, Bitty has them perform a dib flip and while the others are excited when it turns out Dex and Nursey will be sharing the room, Dex is utterly horrified. Dex desperately tries to get out of sharing a room with Nursey, demanding a re-flip which is refused. Dex continues arguing with Nursey who figures Dex will move out by August or September and tells an ecstatic Chowder.[25]
Wearing a Falconers shirt, Dex cheers on the Falconers as they clinch a playoff berth and an ecstatic Shitty kisses the TV.[26]
At the end of year banquet in his sophomore year, Dex votes for Bitty as captain for the next year. When Bitty wins on a unanimous vote from the team, Dex smiles proudly as he claps for Bitty's achievement.[27]
After Jack and Bitty kiss on live TV and pose for a picture with the Stanley Cup alongside Ransom, Holster, Shitty and Lardo, Dex texts demanding to know where the kegster is happening as he is coming to join it. Dex later texts stating that the frogs are doing a samwhich delivery and asks for orders, causing Holster to text back that they need at least thirty samwhiches.[28] After the presser, Dex helps Bitty serve food and brings Bitty's phone to him, warning that its battery is dead and needs to be charged. Bitty thanks him and orders Dex to leave the phone on the table while he gets the eggs out to the others.[29]
When Jack arrives at Samwell for his Cup Day, Dex greets him at the door of the Haus and holds the door for Jack as enters carrying the Stanley Cup. A picture of this later appears in the Swallow.[30]
During the hazing of the Waffles, Dex fines Hops for breaking two sticks in one game. When the Waffles complain about Bitty's hazing, Dex tells them that Bitty is delving deep into SMH history for his hazing rituals. He later joins Bitty and Nursey in Bitty's Haze by Hazewest hazing ritual, arriving to unexpectedly drag the Waffles off to Faber. After Chowder comments that Bitty has officially gone mad with power, Dex agrees before admitting that he likes it.[31]
References
↑

Year 1 Comic #17

↑

Year 2 Comic #3

↑

Year 2 Comic 5

↑

Year 3, Comic 13

↑

Year 3, Comic 17

↑

Year 2 Comic 11

↑

Year 3, Comic 13

↑

Year 3, Comic 17

↑

Year 3, Comic 19

↑

Year 3, Comic 20

↑

Year 4, Comic 2

↑

Year 4, Comic 3

↑

Year 4, Comic 5

↑

Year 4, Comic 7